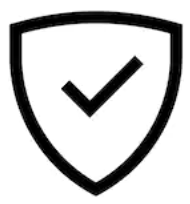 Compatible
Designed for compatibility with almost all commercial ceilings including sheet rock, drop ceilings, wood, or metal ceilings.

Quick to Install
One person can easily install by themselves in less than 15 minutes

Aesthetic
Sleek, low-profile design provides clean professional-looking solution for offices or retail applications.

Safe
Prevents airborne respiratory droplets passing from one person to the next.
Universal
The Clear-Guard can be used in all types of applications where separation and protection is the number one priority

Easy to Clean
Can be cleaned quickly and regularly without damage to the product.​
Durability
Made to last from crystal clear, transparent vinyl, lightweight, strong and resilient

Affordable
Clear-Guard is inexpensive and easy to add t or replace when needed.

Customizable
Standard size is 48" x 28" but quick and easy to adapt to your exact dimensions.​