A PVC strip door is comprised of flexible vinyl strips that are suspended from the top of a doorway by a mounting system. Mounting systems are mounted either under the lintel of the door or into the wall above the door. Various types of mounting systems exist in the market, made from steel, aluminum and high-tech polymers.
At Clearway we developed a unique mounting system design that makes mounting vinyl strips fast and easy. We call it the QuickMount. With the creation of the QuickMount, it became possible to install a PVC Strip in less than 10 seconds, and without any tools. When you order a QuickMount Strip Door Kit, PVC strips come pre-punched with holes on 2" centers across the top of the strip.
A QuickMount strip door can be installed by pressing these pre-punched holes over the QuickMount pegs. It's very easy to install a strip but also impressively secure. Strips only come off if you intentionally take them off. The QuickMount is available in two different styles:
The QuickMount MD is a medium-duty system, made from a high-tech polymer, recommended for pedestrian traffic applications. It is used in personnel doors and walk-in coolers and freezers. It is rated for very low temperatures and is made from an FDA/USDA compliant polymer. The QuickMount has a lifetime warranty when used with pedestrian applications. It is best utilized when the door opening height is 12 feet or less.
The QuickMount HD is a heavy-duty system, made from structural aluminum, recommended for motorized applications. It is used in industrial, warehouse and cold storage applications where forklifts will be used. It's the ideal answer for heavier traffic or products moving quickly through the doorway.
The QuickMount HD can be used for any height of door opening and is a great choice when aluminum is a preferred material for the application.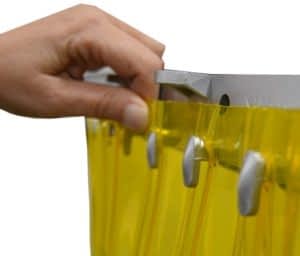 A PVC strip door installation can be fast and easy if you know which mounting system is right for your application and follow the installation instructions provided by the manufacturer. For more information about PVC Strip Door Mounting systems reach out to us at info@www.clearwaydoor.com